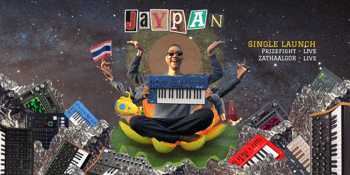 The Last Chance
CANCELLED - Jaypan at The Last Chance
The Last Chance Rock & Roll Bar (North Melbourne, VIC)
Sunday, 10 October 2021 7:30 pm
Jaypan will treat us to his theatre of emotion accompanied by his playful, electro music, taking us on a rollercoaster of fantasy. His tight and sexy electro beat will be the soundtrack to this amusement park experience. The wall of synthesizers before him is the only thing separating us from absurdity.
His performance described by a random dude: "I've never been to a circus, but I think I've seen enough after I've seen Jaypan, bruh." A random dude
Jaypan will bring his children (synthesizers and drum machines) to perform a solo set, supported by Prizefight and ZATHAALGOR.
Prizefight is a Melbourne-based producer and DJ who explores the atmospheric corners of dance music, with an affinity for outsider house and UKG inspired breaks.
ZATHAALGOR's live performances are a bizarre adrenaline-filled trip into futuristic space realms and mechanical ecospaces, using live visuals and elaborate costumes to create an audiovisual environment perfect for total carnage.
Listen
Jaypan
https://distrokid.com/hyperfollow/jaypan/submarine
Prizefight
https://open.spotify.com/artist/3imo6DPDraLtBLvbMcuL0q?si=6e2ab70d4e834c7f
ZATHAALGOR
https://open.spotify.com/artist/1ePiexJko7O6nl3fzDKl5t?si=6yi2caFVRKy-Bz7T9Q7i9w&dl_branch=1