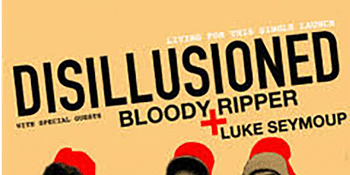 The Last Chance
Disillusioned "Living For This' Single Launch
Bloody Ripper + Luke Seymoup
The Last Chance Rock & Roll Bar (North Melbourne, VIC)
Friday, 7 May 2021 8:30 pm
It's finally time to put the trials of 2020 behind us and launch into a full on celebration! LIVING FOR THIS is the brand new single from DISILLUSIONED, and after waiting for so long to unveil it properly we are more excited than ever to burst out of lockdown and bring it to the world!
After it's online unveiling only a matter of months ago, LIVING FOR THIS has proven to be the earworm we hoped it would be, and now we are ready for it's LIVE DEBUT!
Fresh off a hot line of gigs and awesome shows, BLOODY RIPPER will be along in support to add their punk rock flair to keep the energy high and the vibes flowing.
LUKE SEYMOUP has been doing nothing but releasing absolutely killer tracks and he will be bringing his newest bangers to the stage as the cherry ontop of this already bonkas night of music.
Get down and shake off the gig-drought depression and get amongst some of the best alternative acts Melbourne has to offer!