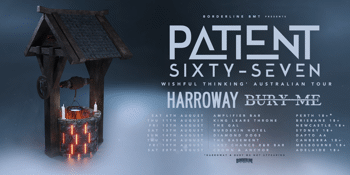 Patient Sixty-Seven 'Wishful Thinking Australian Tour' - Melbourne 18+
The Last Chance Rock & Roll Bar (North Melbourne, VIC)
Friday, 19 August 2022 8:00 pm
Patient Sixty-Seven - the Perth metalcore underdogs turning heads around the globe - have announced the release of their debut album 'Wishful Thinking' on July 22.Patient Sixty-Seven are often spoken about online as "a band who are set to explode - who are proving themselves in the crowded world of metalcore that authenticity and heart matter above all else.
"The announcement follows the release of several hard-hitting releases from the band through 2021/22 - with the album being the end game as a result of over 18 months of writing, recording and persevering. Patient have often been seen as a band to come from nothing, hailing from one of the most isolated cities in the world - to building into one of the most promising bands in the genre.Armed with nothing but a heartfelt passion for heavy music (and a love for memes) and an ever growing group of supporters - the announcement continues to assert Patient Sixty-Seven's trajectory following a huge last 12 months.
A brand new single 'Feel Alive' (dropping May 20th) will also follow the album announcement, with preorders for the record now available now on the bands website and digital retailers.On the release of the album, vocalist Tom Kiely says 'To have a full length album on the way is just something our band has always dreamed about doing. To have it happening is really surreal. Wishful Thinking is a summation of our band, everything we've sort of worked toward over the last few years, and it's as much for our supporters as it is for us. There's heavy, there's riffs and breakdowns, there's melodic, there's some twists and turns and we really believe there's something here for every fan of heavy music. We couldn't be prouder of what we've achieved.I think people who have heard the singles so far have seen the dynamics and the sound we're really going for across the board. As we kept writing more in the studio through last year it became clear we wanted to put an LP together, as a reflection of who we've become as artists and as people over our journey together. This album is Patient Sixty-Seven. This album is for everyone who's given our band a chance and continues to believe in us."Sonically, the 10-track album effort is set to showcase the band at their best - pairing a seamless mix of metalcore and melodic tendencies - while weaving between a backdrop of epic, distraught and even somber moods across the record.
Wishful Thinking has already seen success in the form of the initial singles, with songs such as 'Scattered' and 'Damage Plan' quickly becoming favourites amongst the groups passionate fanbase.The album bolsters several huge names joining forces with the band across the record, including Sleeping with Sirens frontman Kellin Quinn, Loveless's Julian Comeau and VRSTY vocalist Joey Varela. Production for the record was handled by the bands longtime producer Ryan Botha, with additional production provided by Bryce Kariger. Patient Sixty-Seven have amassed a huge 5 million+ total streams and over 70k monthly listeners and have racked up stats like cover artist for Homegrown & Heavy, playlist spots on New Core, New Metal Tracks,Metal Covers, New Blood & More on Spotify, placement on Apple Music playlists Breaking Hard Rock & Heaps Heavy, featured as Tidal playlist cover artist on Rising Metal and hit the international radio waves onSirius XM and idobi radio, and back home on triple J across Short Fast Loud & Home & Hosed + Rotation on triple J Unearthed and The Faction.The album can be preordered now from
www.patientsixtyseven.com
, you can witness the bands debut full-length album live this August as the band embarks on their first Australian tour bringing along their friends in Harroway & Bury Me.