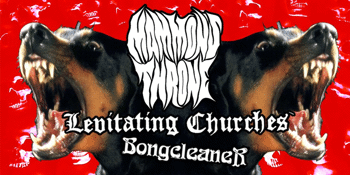 The Last Chance
POSTPONED - Mammons Throne, Levitating Churches + Bongcleaner at The Last Chance
The Last Chance Rock & Roll Bar (North Melbourne, VIC)
Friday, 1 October 2021 7:00 pm
Sometime during the pre-apocalypse times BONGCLEANER, LEVITATING CHURCHES and MAMMON'S THRONE shared a stage somewhere over in the other side of the city – now it's the turn of one of our favourite bars, THE LAST CHANCE ROCK & ROLL BAR to play host.

BONGCLEANER kill it every time with their brand of stoner sludge in the spirit of a filthy dank resin stained bong.

LEVITATING CHURCHES are hell bent on underground obscurity and brimming with a misguided do-it-yourself ethos. Party like it's 1973!

MAMMON'S THRONE bring their fuzzed out mix of melodic doom, death and sludge metal with which to lure you in and haunt your dreams!

Get on the beers and bring your earplugs!