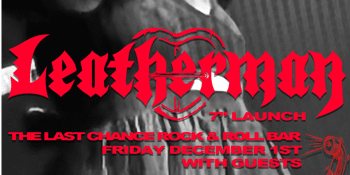 LEATHERMAN w/ Bayonet, Hot Machine + Scud
The Last Chance Rock & Roll Bar (North Melbourne, VIC)
Friday, 1 December 2023 8:00 pm
LEATHERMAN are launching their debut 7" into OUTER SPACE at The Last Chance with special guests Bayonet, Hot Machine + Scud.

—

The new kids on the block, LEATHERMAN, a hard rockin', power poppin' band of five lunatics on a mission to bust ears, flow tears, steal beer and make a party.
Featuring rockers Annabel Brown, Ben Redlich, Shauna Boyle (Cable Ties), Jarrod Goon (Clowns) and Jake Laderman (Clowns), this band exists to exorcise pop demons, slug guitarmonies, howl melodies and churn heavy metal riffs/rhythms. Think The Exploding Hearts, The Shivvers, Thin Lizzy and Judas Priest all wailing on each other in the street - powerful and chaotic rockin' that ain't afraid of a little cheese.
The first taste of LEATHERMAN comes as a double punch, double A-side 7" featuring the (soon to be) smash hits 'TELEPHONE' and 'Tryin 2 4get'. These songs were tracked live, fast and loose at Sound Park studios in May, 2023, serving balls-to-the-wall power pop, catchy melodies, dual lead guitar mayhem and five idiots having fun.
7" is out now, physically by Legless Records and digitally by Damaged Record Co.