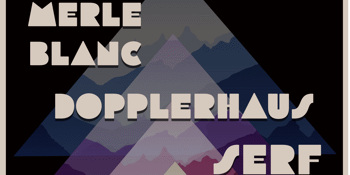 Merle Blanc at The Last Chance w/ Dopplerhaus + SERF
The Last Chance Rock & Roll Bar (North Melbourne, VIC)
Saturday, 2 July 2022 2:00 pm
Merle Blanc are once again set to bring chill rock vibes to the venues of Melbourne on July 2nd at The Last Chance Rock n Roll Bar, and they'll be joined by Dopplerhaus and SERF.

Inspired equally as much by the melancholic lyricism of Beach House and the frenetic stylings of Everything Everything, Merle Blanc drift from dreamy passages to driving riffs, tying everything together with thoughtful lyrics and catchy pop melodies.

Feeling like an evolution of both disco and old-school krautrock yet fresh enough to sit alongside modern jam bands like SLIFT or Mildlife, their set will be over before you even realise it - feeling like both an instant and an eternity.

Equal parts psychedelic and early dream pop, Rory of SERF evokes stylings of bands like The Cure and Cocteau Twins to tap in to the nostalgia centres of your brain.