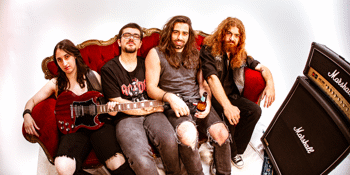 The Last Chance
Avalanche w/ Dangerous Curves/ The Dreadful Tides | 'Second Hand Band' East Coast Tour | The Last Chance, Melb
Dangerous Curves and The Dreadful Tides
The Last Chance Rock & Roll Bar (North Melbourne, VIC)
Sunday, 6 February 2022 7:30 pm
West Sydney hard rockers Avalanche are on the road again for a massive, 6 month long tour on the back of their latest single and EP release, 'Second Hand Band'. The whole East Coast of Australia won't be safe from their raucous, energetic live show. What to expect? Blood, sweat and piss, but most importantly of all, a good bloody time!

If you've ever thought that rock is dead, or new music has nothing to offer, prepare to reconsider and be ready for a bit fat shot of rock n' roll direct to your ear holes from Avalanche and their good mates; some of the loudest, heaviest and meanest bands in the scene today!

Joining them at The Last Chance Rock N' Roll Bar in Melbourne will be local legends Dangerous Curves and The Dreadful Tides!