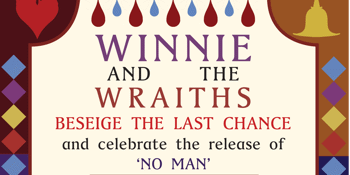 Winnie and the Wraiths Linger at the Last Chance
The Last Chance Rock & Roll Bar (North Melbourne, VIC)
Sunday, 10 December 2023 7:00 pm
Winnie and the Wraiths Linger at the Last Chance | with Special Guests Lydia Belle & Sweating Fretboards | December 10 @ 7pm

LISTENER BEWARE! The desolate spirits of WINNIE AND THE WRAITHS return to tantalise and torture patrons of the LAST CHANCE ROCK & ROLL BAR! Honorary Wraiths LYDIA BELLE and SWEATING FRETBOARDS have already given their souls over to the dark side to create a VISUAL AND AUDITORY FEAST, sure to delight and disquiet the senses!

Be forewarned, this devilish date with destiny will feature the release of Winnie's first ghastly single, 'NO MAN', which will haunt your mind for an eternity to come! Join us to revel in the ethereal joy of live music and joyous art… if you dare!