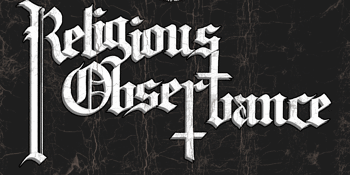 The Last Chance
Religious Observance at The Last Chance w/ Remains, Burn The Hostages + Vipers
Remains, Burn The Hostages + Vipers
The Last Chance Rock & Roll Bar (North Melbourne, VIC)
Friday, 16 April 2021 8:00 PM
A crushing night of Sludge and Grind hits the Last Chance, as RELIGIOUS OBSERVANCE, REMAINS, BURN THE HOSTAGES and VIPERS take the stage.

Wasting no time since a lockdown riddled 2020, RELIGIOUS OBSERVANCE returned to gigging hard in 2021 with their energetic breed of doom metal. They will be supported by REMAINS and BURN THE HOSTAGES, who boast line ups consisting of members from Blood Duster, Extortion, I Exist, Captain Cleanoff, Fuck I'm Dead and The Kill just to name a few. Rounding out the bill is newcomers VIPERS, who bring their chaotic and abrasive strain of hardcore punk.

A brutal line up, not to be missed!