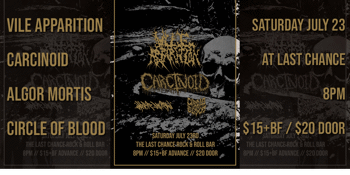 Vile Apparition, Carcinoid, Algor Mortis + Circle Of Blood at The Last Chance
The Last Chance Rock & Roll Bar (North Melbourne, VIC)
Saturday, 23 July 2022 8:00 PM
Get down to the Last Chance for a night of gnarly brutality!
Be awestruck and bludgeoned by the punishing death metal of Vile Apparition!
Get low and slow with Carcinoid and their death doom cacophony!
Slam like its 1992 with the beatdown death savagery of Algor Mortis!
Raise your horns with Florida-via-Sweden-worshippers Circle Of Blood!
Don't miss the heaviness!