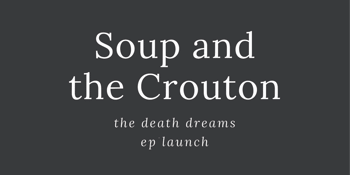 Soup and the Crouton – the death dreams EP launch w/ Nightlight + Waxman
The Last Chance Rock & Roll Bar (North Melbourne, VIC)
Friday, 15 December 2023 8:30 PM
Soup and the Crouton will be releasing their debut EP the death dreams, on December 10th, a collection of songs displaying their intense blend of post hardcore, black metal, and shoegaze tied together with melodic yet surprising song writing. Catch Soup perform these songs and more on December 15th at the Last Chance Rock and Roll Bar.
Joining the dynamic trio will be alt pop group Nightlight, bringing 00s nostalgia laced, hip hop influenced glittery electro pop to the show.
Waxman will be opening the night showcasing some of the best post hardcore music Melbourne has to offer. With infectious grooves and thought-provoking lyrics you'll definitely want to get in early to catch them.